A Cook's Story
Franco started with a passion for food and a desire to bring the secrets of Italian cooking to those with a hunger to learn.
So he set out to unravel the mystery surrounding great Italian food; in short... to bring truly authentic, rustic style dishes back to the American table. First he began with the recipes, gathered over many trips to and from Rome, Siena, and Naples. Next he gathered ingredients from all over Italy; cheese from Tuscany, flour from Campania, tomatoes from San Marzano; only the best of the best. The tests began and while his efforts were good,something was still missing. It turned out that the recipes and the imported ingredients were only part of the puzzle. He learned technique, production, farm to table seasonality, yet the quest continued and his frustration mounted. What … was… he … missing? The answer, it seems, was in a simple comment made by his nonna years earlier when he was a boy "La cucina piccola fa la casa grande" a small kitchen makes a big home. Welcome to Franco's Italy
Ever watch a Cooking Show on TV and say to yourself

"Now that looks like FUN!" I would love to do that!"
Well now you can!
Have an Interactive ITALIAN Cooking Party in your own Kitchen!
It's a great way to learn about the fabulous food of Italy and entertain your guests.
Learn How to Make Italian Specialties, as Demonstrated by Chef Franco Contaldo

-Taste Each Item as it's Made
-Ask Questions, Learn Technique
-Recipes for Every Course provided
-Customized Menus Available
It's not just the great food that makes our Cooking Parties so popular, it's also Chef Franco! His interesting stories, fun facts, and helpful cooking tips make the event truly special!

How This Works: Everything is provided; the ingredients, equipment, utensils and even the vino! You and your guests will be given simple, easy to follow verbal instructions and guided by Chef Franco while everyone participates in making each item for your totally interactive party. Every one will also participate in a wine tasting featuring wines selected to pair perfectly with your event.
This is an eating and drinking party...Italian Style !
The Parties usually last between 2 hour to 3 hours, but really have no time limit. We'll keep going as long as you do! Some groups love to ask a ton of questions, or discuss the courses, so we always plan on staying longer. We'll never rush you through. It's all about enjoying the experience.
Franco Contaldo has appeared on:
WMTV-Detroit "Who's in the Kitchen" show - ABC 33/40 "Talk of Alabama" with Nicole Allshouse and Ebony Hall
Fox 5 San Diego Morning Show - Fox 6 Good Day Alabama - Southern Women's Show-Main Stage Featured Chef
KWAM 990AM The Marybeth Conley Show - WREG Memphis Live at 9 with Marybeth Conley, Alex Coleman and Todd Demers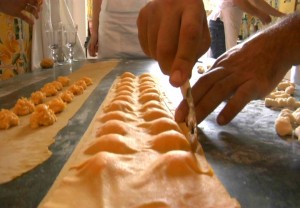 Franco has also developed an exciting Italian Culinary Arts/ Life Style Program for Dyersburg State Community College Sign up now!